Sitemap Gallery Index Thumbnails (I) Web-Gallery (I)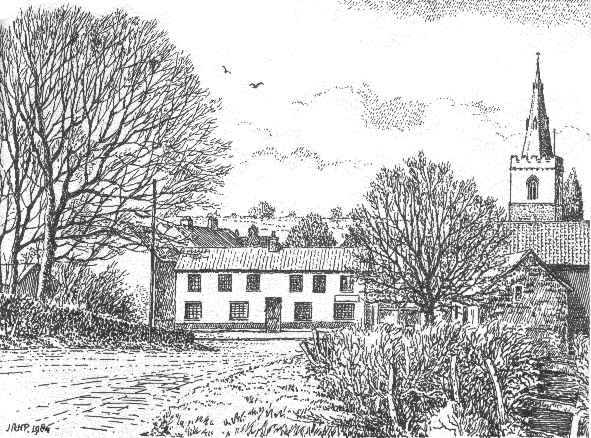 Butt Lane, by John Prophet (Canon J R H Prophet), 1984

The sketch shows the view from the gateway of the old railway yard, looking down Butt Lane toward Keith and Addie Roythorne's newsagent "The Bottom Shop" on Main Street. The yard of the Manor House is to the left (see the rooks circling their nests), the Berkeley Arms to the right, and St. Peter's Church beyond.

Butt Lane has reverted to its original name since the dismantling of the railway - for several years it was called Station Road. The wide flat field to its east was set up with archery butts in days of yore. Butt Lane leads northward from the village, and takes you past the Windmill. Further along, the lane divides in three, one branch being the Old Mere - a section of Roman road.

Approach the village with due caution - there are often people walking dogs and going up to the Windmill, and the bridge over the old railway-line has a bit of a hump. If you are cycling in winter, be aware that it can be slippery at the junction with Main Street.
Dedicated to the memory of Squirrel, a 4-year-old ginger cat
who made his final crossing of Butt Lane in May, 1999.
Sitemap
Gallery Index
Thumbnails (I)
Web-Gallery(I)
Top
The location of this page is http://www.wymondhamleics.free-online.co.uk/gallery/buttla-2.htm
Find it easily at welcome.to/wymondham