Sitemap Gallery Index Thumbnails (I) Web-Gallery (I)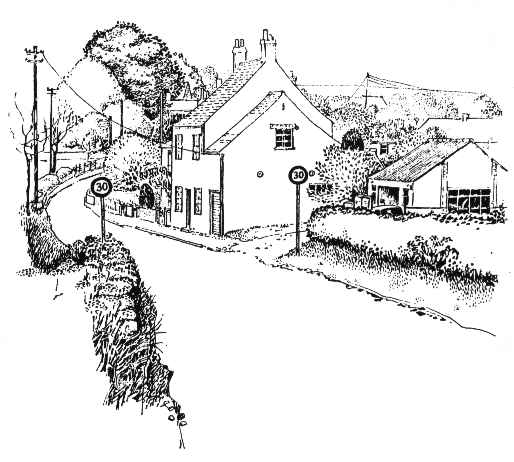 Edmondthorpe Road, by Steve Wallhead, 1990

Enter the village from the south, by coming down the hill from Edmondthorpe, and this will be your view - but not for long, as Joe Sergeant's garage workshop on the right is about to be demolished.

The first house on the right was originally a steam mill for grinding corn, built in 1817. It needed a water supply, and so is situated next to the brook. Wymondham therefore had two operational mills at one time, with the landscape features necessary for both. In high summer the centre of the village may be hot and sleepy, but you can usually fly a kite up at the windmill.

Nurses Lane branches off to the left, Wrights Lane to the right, and Main Street lies ahead. What was until recently the Hunters Arms Hotel is on the left, beyond the trees. This was the home of Mrs. Pawlett in the 18th century, who was famed for marketing Stilton cheese.
Sitemap
Gallery Index
Thumbnails (I)
Web-Gallery (I)
Top
The location of this page is http://www.wymondhamleics.free-online.co.uk/gallery/ed-rd-2.htm
Find it easily at welcome.to/wymondham