Players celebrate the Millennium
Melton Times, October 26, 2000
The Wymondham Players will be performing their annual autumn production tomorrow and Saturday evening (October 27/28, 2000) in a celebration of the 20th century.

Their fun-packed family show will feature music of the last century and sketches and slides about the village over the years.

Chairman Joy Whiteoak said: "The Players do an autumn production yearly, but we thought it would be nice to do something special for the Millennium year."

She added:"I hope it will be a very successful evening."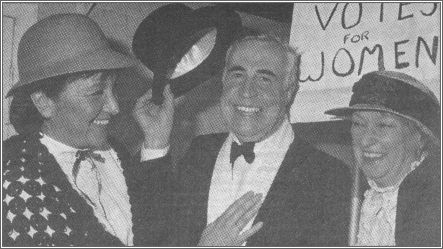 Play on: Joy Whiteoak, Don Christie and Jenny Weston in a dress rehearsal
Three societies in the village will be joining in the Twentieth Century Kaleidoscope fun, with the Sporting Club performing local sketches, the Women's Institute playing a variety of music and the primary school's parent teacher association performing hits from the musical Grease.

Villagers have been busy preparing for the show since February, with Jenny Weston writing the local sketches and Joy Whiteoak and Clare Gamble making many of the costumes.

Tickets for Friday's show are £3.50 and £2.50 with concessions and the price for Saturday's show is £4.50.