It's a lonely life working in a railway signal box but it suits Jenny Goddard just fine. She reads a lot between trains and there's plenty of time to sit and think.

"I suppose there's about 30 trains coming through on a typical eight-hour shift and I often don't talk to anybody for days except at the beginning and end of each shift when I take over from someone or they from me," she says.

"But I don't get bored easily and I'm quite happy with my own company."

Jenny (43) is a signaller (they used to be called signalmen) at the Whissendine box, communicating with fellow signallers through a system of bells. If four bells sound she knows a passenger train is coming through. Five and it's a freight train.

"I saw a signaller's job at Saxby advertised in the Melton Times so I applied for it. Many people have asked me what I found attractive about it but I don't really know.

"But it was local and I knew two people who worked in that box.

"They always seemed to be sitting in there drinking tea and doing not a lot. So I thought 'I can do that'."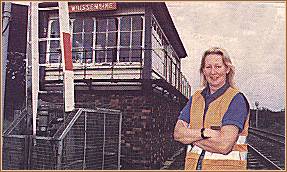 Happy with her own company...signaller Jenny Goddard of Wymondham
She's not very bothered about the trains themselves although the odd steam train that comes through does excite her interest. "Once you've seen one Sprinter you've seen them all. They've got no character whatsoever."

Jenny could be looking for another job within a few years, though.

Railtrack is planning to introduce a fully automated system which will render the traditional signal boxes redundant.

The proof-reading and editing course she is doing at the moment to while away some of the time at work could stand her in good stead for when that happens.

But it wouldn't be at all surprising if she landed another job connected with transport.

Apart from the job she is doing now and the previous lorry driving job, Jenny shares her husband Geoff's passion for 1950s American cars.

Parked outside their home in Main Street, Wymondham, is a six-seater Ford Ranch Wagon from 1959 with only 70,000 miles on the clock, and a 1948 Studebaker.

"I love driving them and in the summer we take them to shows and rallies," she says.

"As long as I have known Geoff we have had American cars, starting off in 1982 with a 1964 pink Pontiac.

"We just like them. They are so flamboyant."

Even the gateway to the Goddard home has a transport theme. It is decorated with traffic signs - French ones brought back when Jenny and her husband followed the Tour de France.